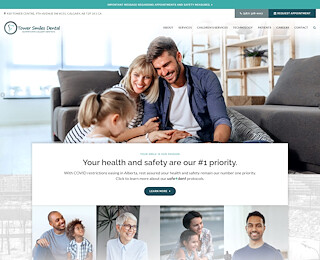 To anyone seeking a Downtown Calgary Dentist, Tower Smiles Dental offers a wide range of oral health services to their patients in the Calgary area. From any downtown Calgary location, Tower Smiles is easily accessible.  
Dr. Eli Markovich is pleased to provide full family dentistry with services in General and Family Dental, Cosmetic Dentistry and Emergency Dental care, including periodontal dental cleanings, restorative dentistry, implants, whitening and much more.  
Dr. Eli Markovich is a downtown Calgary dentist who is always accepting new patients. Some of the more common services and procedures offered at Tower Smiles:  
Restorative Dentistry, including
- White fillings
- Dental Crowns
- Dental Bridges
- Porcelain Veneers
- Cosmetic Tooth Bonding  
Family Dentistry.
Dr. Markovich and the Tower Smiles team are passionate about care and education to create great smiles and a lifetime of dental health.  
Hygiene/Preventative Hygiene Treatment.
Tower Smiles is big on education of patients with regard to Oral Hygiene and the benefits of preventative treatment.  
Dental Implants.
The great difference in quality between dental implants and more traditional dentures makes them a superior choice for cosmetic and functional treatment.  
Partial & Complete Dentures.
Well-made dentures allow the patient both aesthetic and functional benefits, along with the boost in self confidence provided by great looking prosthetic teeth.  
Root Canal Therapy.
Root canal therapy is designed to save a tooth and retain oral health.  
Snoring Solutions.
The MPowRx Snoring Solution is a simple and comfortable to wear appliance designed to prevent night-time snoring.  
Teeth Cleaning.
Tower Smiles recommends twice yearly visits for teeth cleaning and provides convenient services as a downtown Calgary dentist.  
Children's Tooth Sealing.
100% effective tooth sealants are painted on to children's teeth to keep out germs and food that cause tooth decay.  
Emergency Dentistry.
If you need a downtown Calgary dentist for a tooth emergency, Tower Smiles offers emergency care for everything from a broken tooth to oral injuries.  
Make your next dental appointment at the downtown Calgary Dentist, at Tower Smiles.
Downtown Calgary Dentist
Dr. Eli Markovich & Tower Smiles Dental
(403) 262-3826
430 Tower Centre #131 9th Avenue SW Calgary
Alberta
T2P
1K1
View Larger Map